CNC (Computer Numerical Control) lathes have revolutionized the manufacturing industry by automating the process of turning and shaping materials. Two common types of CNC lathes are the slant bed and flat bed variations. In this article, we will explore the differences between these two types and their respective advantages.
I. Construction and Design
A. Slant Bed CNC Lathe:
The slant bed CNC lathe gets its name from the inclined bed on which the workpiece rests during machining. This design offers several benefits, such as improved chip removal, enhanced rigidity, increased stability, and reduced vibration. The slanted bed also allows for better operator visibility, making it easier to monitor the machining process in real-time.
B. Flat Bed CNC Lathe:
In contrast, a flat bed CNC lathe features a horizontal bed or carriage on which the workpiece is mounted. The horizontal configuration provides ample space for larger workpieces and can accommodate heavier loads. However, the flat bed design may result in compromised chip removal compared to the slant bed lathe.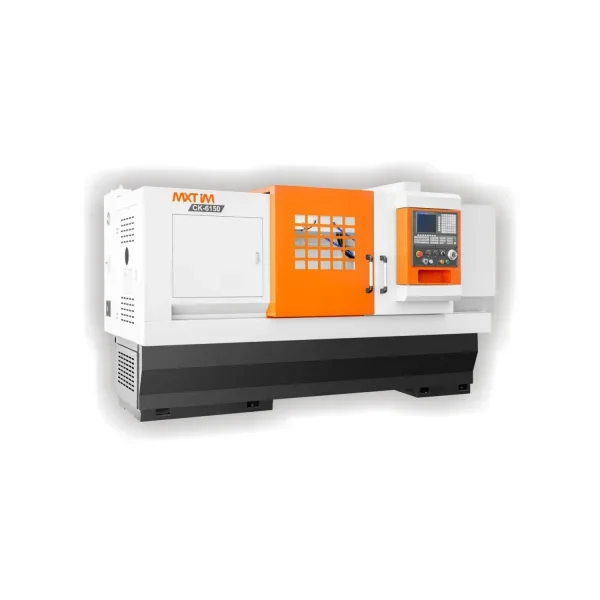 II. Rigidity and Stability
A. Slant Bed CNC Lathe:
The slant bed construction inherently provides superior rigidity and stability. The angled bed design ensures that the cutting forces generated during machining are directed towards the lathe's base, minimizing vibration and allowing for higher cutting speeds and feed rates. This increased rigidity results in improved surface finishes and dimensional accuracy.
B. Flat Bed CNC Lathe:
While a flat bed CNC lathe may offer a larger work envelope, it can be prone to more vibration due to the horizontal bed configuration. This can impact the machine's stability, affecting the precision and quality of the machined parts. However, technological advancements have reduced this drawback, making flat bed lathes more competitive in terms of stability.
III. Tool Accessibility and Chip Removal
A. Slant Bed CNC Lathe:
In a slant bed lathe, the inclined bed design brings the tools closer to the workpiece, enhancing accessibility. This proximity allows for quick tool changes, reducing downtime between machining operations. Additionally, the slanted bed aids in efficient chip evacuation as gravity assists in moving the chips away from the work area, preventing chip buildup and potential tool damage.
B. Flat Bed CNC Lathe:
The flat bed design, though not as advantageous for chip removal, offers improved accessibility for larger workpieces. The horizontal carriage arrangement allows for easier loading and unloading of heavy parts, making it ideal for applications that require machining larger components.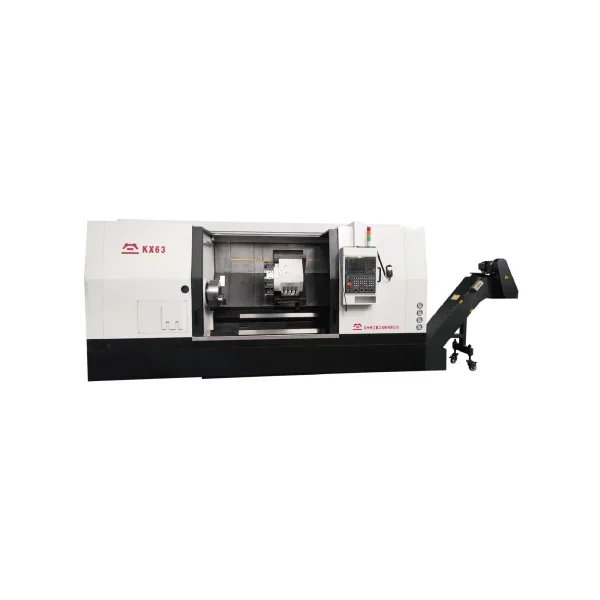 IV. Application Flexibility
A. Slant Bed CNC Lathe:
Slant bed lathes are widely used in industries such as automotive, aerospace, and medical device manufacturing, where high precision and complex shapes are required. The slanted bed design facilitates the efficient machining of intricate features, making it suitable for producing small to medium-sized components.
B. Flat Bed CNC Lathe:
Flat bed lathes excel in handling larger workpieces, making them well-suited for applications such as oil and gas equipment manufacturing, heavy machinery, and marine industry components. Their horizontal carriage design provides ample space for large diameter parts, making them versatile in terms of application.
V. Cost and Maintenance
A. Slant Bed CNC Lathe:
Due to its specialized design and improved performance, slant bed CNC lathes typically come at a higher price point compared to flat bed lathes. However, the initial investment can be justified by the increased productivity and efficiency achieved through faster machining speeds and better chip evacuation. Maintenance requirements for slant bed lathes are generally straightforward, with regular cleaning and lubrication ensuring optimal performance.
B. Flat Bed CNC Lathe:
Flat bed CNC lathes are often more cost-effective compared to their slant bed counterparts. The simpler design and lower production costs contribute to their affordability. Maintenance for flat bed lathes may require more attention to ensure proper chip removal and stability. Regular checks for wear and tear on the horizontal carriage and various components are essential to maintain accuracy and prolong machine lifespan.
VI. Automation and Tooling Options
A. Slant Bed CNC Lathe:
With the advancement of technology, many slant bed CNC lathes are equipped with automatic tool changers and robotic loading systems. This allows for increased productivity by minimizing downtime associated with manual tool changes and providing faster setup times. The slanted bed design facilitates efficient chip removal, enabling uninterrupted operation even during longer periods of machining.
B. Flat Bed CNC Lathe
While flat bed lathes may not offer the same level of automation options as slant bed lathes, they still provide opportunities for customization and tooling versatility. Tool turret configurations can be tailored to specific machining requirements, allowing for various tool options and reducing the need for frequent tool changes. The inherent stability of the flat bed design ensures consistent machining results even with complex tooling setups.
Conclusion
In summary, the choice between a slant bed CNC lathe and a flat bed CNC lathe depends on factors such as the specific machining requirements, workpiece size, budget, and desired level of automation. While slant bed lathes offer advantages in terms of rigidity, stability, and chip removal, flat bed lathes excel in handling larger workpieces and can be more cost-effective. As technology continues to advance, manufacturers can expect even more innovative features and options to further enhance the productivity and efficiency of their CNC lathe operations.
Jiangsu Wanshang Yuan Machine Tool Co., LTD was established in 2010. The company located in Wuxi City, Jiangsu Province. Our company is General Agent of many famous domestic equipment.We are committed to providing customers with complete manufacturing solutions and domestic high-quality equipments. Welcome to consult any questions about CNC Slanting Bed Lathe.
Email:[email protected]